GOOD NEWS FROM COUNCIL

We are pleased to announce that Pastor Gail Irwin will be joining us as our interim pastor beginning October 15.

Pastor Gail is an ordained UCC minister from Oconto Falls. She will be residing for part of each week here in Eagle River. IN the most recent past, she as served as an Intentional Interim at UCC churches in Shawano, Kaukauna/Appleton, Green Bay and Black Creek. She has also served settled pastorates in Clintonville and Green Bay. She brings broad experience with transitional ministry to our church.

Due to COVID-19 Pastor Gail will need to begin with us on-line in a virtual service. We expect to move to an in-person service as soon as conditions allow. IN the meantime, we can expect creative ways of looking toward Thanksgiving, Advent and Christmas. I realize this is an announcement that make all of us feel glad and sad, as we want a pastor and we also want an open church. It will happen; we will worship together again. Safety, however, must be paramount. Your Church Council continues to follow the advice of the State of Wisconsin and the Wisconsin Council of Churches. We are ready to open when Pastor Gail, the Council and the guidelines are in alignment. In this mailing you will be hearing from Pastor Gail herself. But know that you will see and meet her soon. She has plans!

Sincerely,

Bernie Hupperts and the Church Council
Hello from Pastor Gail Irwin,

I'm excited about joining you in ministry in Eagle River! This week I've been meeting your staff and lay leaders, touring your building and getting to know your city.

As an interim pastor, I will be helping you reflect on your church's ministry and how you want to follow God into the future in these interesting times. I hope to be with you until you are ready to welcome the next pastor God is sending you.
Later this week, I will be posting an on-line introduction and worship service you can watch in a YouTube format. I encourage you to make a special time and place, maybe on Sunday morning to view it. Then on Sunday, October 17, 2020 from 10:00 to 11:00 am, I will host a Zoom fellowship gathering for anyone with a computer or telephone who wants to join in and get acquainted. Please watch your email (or mailbox for a paper version) for links to these events and a plan to join us.I look forward to getting to know you all better!

With God's Peace,

Pastor Gail

Welcome to First Congregational -
United Church of Christ - Eagle River, WI!
Our Mission Statement:
"Empowered by the Holy Spirit
and with the help of God,
we open our doors and hearts to all,
in service and love as modeled by Jesus Christ."
We are located at the corner of First and Division Streets in Eagle River, Wisconsin...
We hold two worship services each Sunday morning at 7:30 am and 10:00 am except for....
***UNITY SUNDAY***
Unity Sunday Worship is held on the LAST Sunday of each month with one service only at 9:00 am followed by brunch
During the school year, there are Faith Formation Classes for children from Nursery - 8th grade. It's FUN - come and join us!! Please see the Christian Education pages for more info.
From young to old, there is a place for you in this faith community.....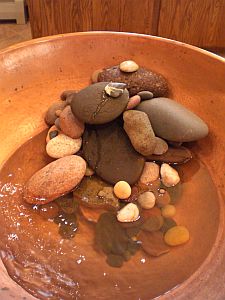 The "Living Water" of the Baptismal Font -
through baptism, we come to Christ, who is the Living Water, and enter Christ's Church.
SaveSave
SaveSave
SaveSave
SaveSave
SaveSave
SaveSave
SaveSave
SaveSave
SaveSave
SaveSave
SaveSave
SaveSave